Lessons from the Most Successful Podcasters: Tips and Tricks from the Top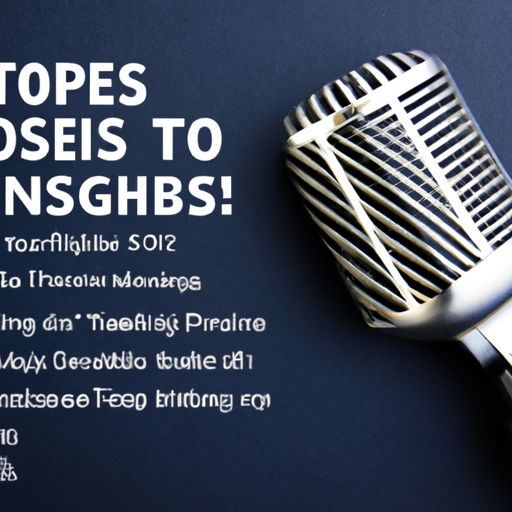 Lessons from the Most Successful Podcasters: Tips and Tricks from the Top
Podcasting is the new darling of the content creation world, and rightly so. Podcasts are an intimate and engaging way to connect with your audience, whether you're an industry expert, comedian, or just a regular person with a compelling story to tell. But why are some podcasts wildly successful, while others struggle to find an audience? What sets the top podcasters apart from the rest? Here are some lessons from the most successful podcasters in the game.
1. Be Authentic
One of the most important lessons from the top podcasters is to be authentic. Your audience can tell when you're not being genuine, and it will turn them off. Don't try to be someone you're not, speak your truth and be yourself. That's what will make your podcast stand out.
2. Consistency is Key
Another lesson from successful podcasters is the importance of consistency. If you want to build a loyal audience, you need to create content on a regular schedule. It doesn't matter if you release an episode once a week or once a month, just make sure you stick to your schedule. Consistency builds trust with your audience, and they will be more likely to come back for more.
3. Engage with Your Audience
Engaging with your audience is another key lesson from successful podcasters. Respond to comments on social media, read listener emails on air, and ask for feedback. Your audience is what makes your podcast successful, so make sure you're listening to them and giving them what they want.
4. Have Fun
Last but definitely not least, have fun! The most successful podcasters are the ones who are passionate about what they do and genuinely enjoy the process. If you're having fun, your audience will feel it and they'll be more likely to enjoy your podcast too.
There you have it, some key lessons from the most successful podcasters in the game. Be authentic, consistent, engage with your audience, and most importantly, have fun. If you follow these tips, you too can create a wildly successful podcast that connects with your audience on a deep and meaningful level.
About Author